Chapter Books
Bark Park Mysteries Series
Meet Scout. She's a little dog with a big appetite for solving mysteries. As luck would have it, mysteries always seem to pop up at Bark Park. Join Scout and her friends as they crack each case!
Scout's Bark Park adventures are early chapter books with fun color illustrations throughout. There are 9 stories in all. They're available on the digital platform Epic! or you can find printed paperback volumes that include 3 stories each via the links below.
Order Now:
Wild Fairies Series
Meet the Wild Fairies, a group of magical fairy friends who love playing and learning in the beautiful and bountiful forest they call home. With their reliable critter companions always by their side, Daisy, Thistle, Heather, Celosia, Poppy, Dahlia, Indigo, and Lily care for the natural world around them using their unique and diverse set of special skills. Infused with ecology, botany, and magic, the wild fairies' whimsical adventures will inspire in kids a sense of wonder and curiosity for nature, as well as inform them about the wildflowers and critters behind the fairies through young-reader friendly nonfiction pages in the back of each book.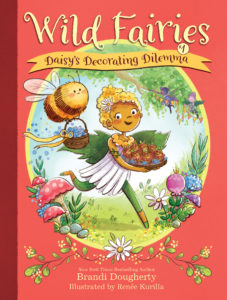 Wild Fairies #1: Daisy's Decorating Dilemma 
In the first installment of the Wild Fairies series, Daisy's Decorating Dilemma, spring is in the air in Sugar Oak! Green buds grow on the trees, the temperature's warm, and all of the fairies' animal friends have come out to play. But before the fairies can smell the flowers and soak in the sun, they must plan the biggest party of the year—the Blossom Bash! Normally, Daisy would LOVE leading her fairy friends, but when each of the fairies has a different vision for the bash's decorations, she's left stumped. Thistle wants thistle flowers! Dahlia wants dahlias! And Poppy wants LOTS of red. Daisy has a difficult decision to make, and with first bloom right around the corner, she better decide fast.

Order Now: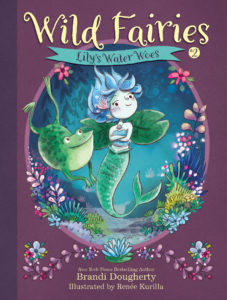 Wild Fairies #2: Lily's Water Woes
The second installment of the Wild Fairies series, Lily's Water Woes, follows wild fairy (and mermaid) Lily, who is feeling left out. While her fairy friends get to travel to beautiful beaches and lush forests, Lily is always stuck at home, unable to be away from the water for very long. Her froggy pal, Splash, tries his best to cheer her up, but Lily still wishes she could stay out late and play like the other fairies. Wanting to help their friend, the fairies come together to build an awesome surprise for Lily that just might make it easier for her to travel beyond her small pond.

Order Now:
Recipe for Adventure Series
Brandi teams up with celebrity chef Giada de Laurentiis to write four books in this fun chapter book series that pairs food, travel, and adventure!

Recipe for Adventure #5: Rio de Janeiro
In this, the fifth adventure in the series, Zia's secret ingredient takes Alfie and Emilia to a city where the music and festivals are as fantastic as the food—Rio! There they meet Miguel Costa, who persuades Alfie and Emilia to take part in the children's parade at Carnival. As the siblings navigate the busy streets of Rio, they discover a world of sights, sounds, and tastes they'll never forget.

Order Now:
Recipe for Adventure #6: Hawaii
In this adventure, Zia's magic ingredient transports Alfie and Emilia to beautiful and exotic Hawaii. There they meet Kai, Jacob, and Lana, who introduce them to the local sights—and surf! They also get a real taste of the islands when they help Kai's uncle cook for a traditional luau. Between the hula dancing, surfing, and pineapple upside-down cake, will Alfie and Emilia be able to find their way home?

Order Now:
Recipe for Adventure #7: Miami
In this adventure, Zia's secret ingredient transports Alfie and Emilia to a colorful city with a delicious spicy side—Miami! Known as the "Magic City," this gorgeous destination welcomes the siblings with its blend of Caribbean-style cuisine, beautiful beaches, and bright neon-painted buildings. As soon as Alfie and Emilia hit the streets, there's no telling what adventures are just around the corner.

Order Now: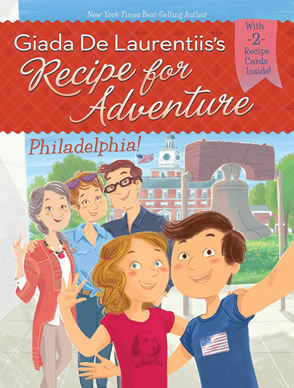 Recipe for Adventure #8: Philadelphia
In this final adventure in the series, Zia's secret ingredient transports the entire family to the historic city of Philadelphia. There they meet Emma and her parents who run a charming, old hotel. Before long the Bertolizzis are touring all the famous sights and tasting all the famous foods Philadelphia has to offer, but that's not all the city has in store for them!How does Vardenafil work. Part 2

Order Now: