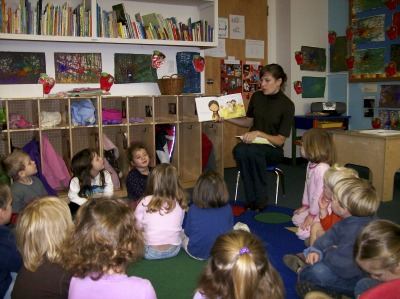 I love visiting classrooms and meeting students. My main goal is to inspire students to see their own creative talents and know that everyone has the ability to be a writer and storyteller.
For my picture books, my recommended audience is grades pre-K through second grade. I like to offer a reading of one or two of my picture books as well as an engaging, interactive activity.
For my middle grade books, my recommended audience is grades 3-7. I like to show a funny slide show, talk about my writing process (including my "big five" tips for being a writer), and end with a question and answer session.
I am happy to tailor my presentations to the age level of the students and the needs of the teacher or school. I am also available to give presentations to libraries, bookstores, book festivals, and conferences.
I am available for local visits in Los Angeles as well as visits out of region or state. Please email me for specific fee information and to set up a visit and/or a signing.
I am also available to do virtual Skype classroom visits. Let me know if you'd like more information on this.
I look forward to meeting you and your students! How Can Consumers See Medication Costs And Cost-Saving Alternatives. Part 2

School Reviews:
Brandi Dougherty is a wonderful, inspirational author. She did a presentation on her "Littlest" series, which was perfect for our K-2 students, and our students loved it! She shared what inspired her as a writer and encouraged the students to write at an early age, just like she did. Mrs. Dougherty also spoke about her Wild Fairies series, and many of our students have come in asking to check those books out from the library. Brandi is a great person to work with. She is punctual, courteous, flexible and a dog lover! What more could you ask for? I highly recommend all schools to have Brandi Dougherty visit them for Author's day.
~ Alexis Martinez, librarian, Woodland Elementary School
It was wonderful having you here, and we really appreciate the high level of professionalism you brought, your great enthusiasm and attention to detail, as well as the obvious thought and work you put into tailoring the talk and storytelling for different grade levels. They - and we (even teachers commented) all got so much out of it!
~ Elizabeth Ehasz, librarian, St. Martin of Tours School
My first graders truly enjoyed having Brandi visit our classroom. She read her book The Littlest Pilgrim to my class and inspired them to become authors. They were so excited to meet a "real author." After Brandi visited, students began writing their own stories. It was so cute because, instead of writing about their puppy or kitten, most students were writing about 'The Littlest Puppy' or 'The Littlest Kitten'!
~ Vicki Robins, 1st grade teacher, Edgerton Elementary
Ms. Dougherty came and visited with my 8th grade Language Arts classes. Students were engaged with her presentation and anxious to have their questions answered about the process of writing and becoming published. Several students commented either to myself or to Ms. Dougherty that they were inspired by her and were enthused about pursuing writing careers. It was evident that many of the students took their writing more seriously and saw value in being good writers after Ms. Dougherty's visit.
~ Debbie Beston, Language Arts teacher, Evergreen Junior High School
Miss Dougherty visited our classroom with a smile and many stories. She did a fantastic job telling about her writing process, and had a great rapport with the kids. Each student had Miss Dougherty give her authograph before leaving. What a fun experience to meet a real-live author!
~ Brad Nikunen, 4th grade teacher, Edgerton School